Regular price
Sale price
$0.00 USD
Unit price
per
Sale
Sold out
DETAILS:
Aloe Strawberry is a delicious and refreshingly sweet strawberry-flavored vape that's perfect for any time of the day. With approximately 4000 puffs, our Aloe Strawberry disposable vape has got you covered. From the freshest picked California strawberries with diced cut aloe vera blended to make this sweet vape flavor.
Device Features:
Rechargeable
5% Nicotine Salt Strength
Approximately 4000 Puffs
Adjustable Airflow System
Integrated 650mAh Battery
Type-C Charging
Learn More:
Introducing our very first disposable device that can approximately produce 4000 Puffs. Feature a tank capacity of 9ml, we filled it with 5% salt nicotine of some of our latest vape flavor formulas. Equipped with an adjustable airflow system, to maintain the right amount of airflow you desire. Powered up with a rechargeable 650mAh built-in battery, you will be able to use the whole tank of e-liquid and never miss a drop again. Our device can give you a quick, powerful charge with the USB-C connection port offering the fast charge possible. Our mixologists have crafted unique flavor combinations that complement each other creating a flavor for anyone's taste pallet. The taste and quality of our disposable flavors will be a pleasant surprise, you're sure to enjoy.
Need to purchase wholesale?
Our sales team is here to help
Share
View full details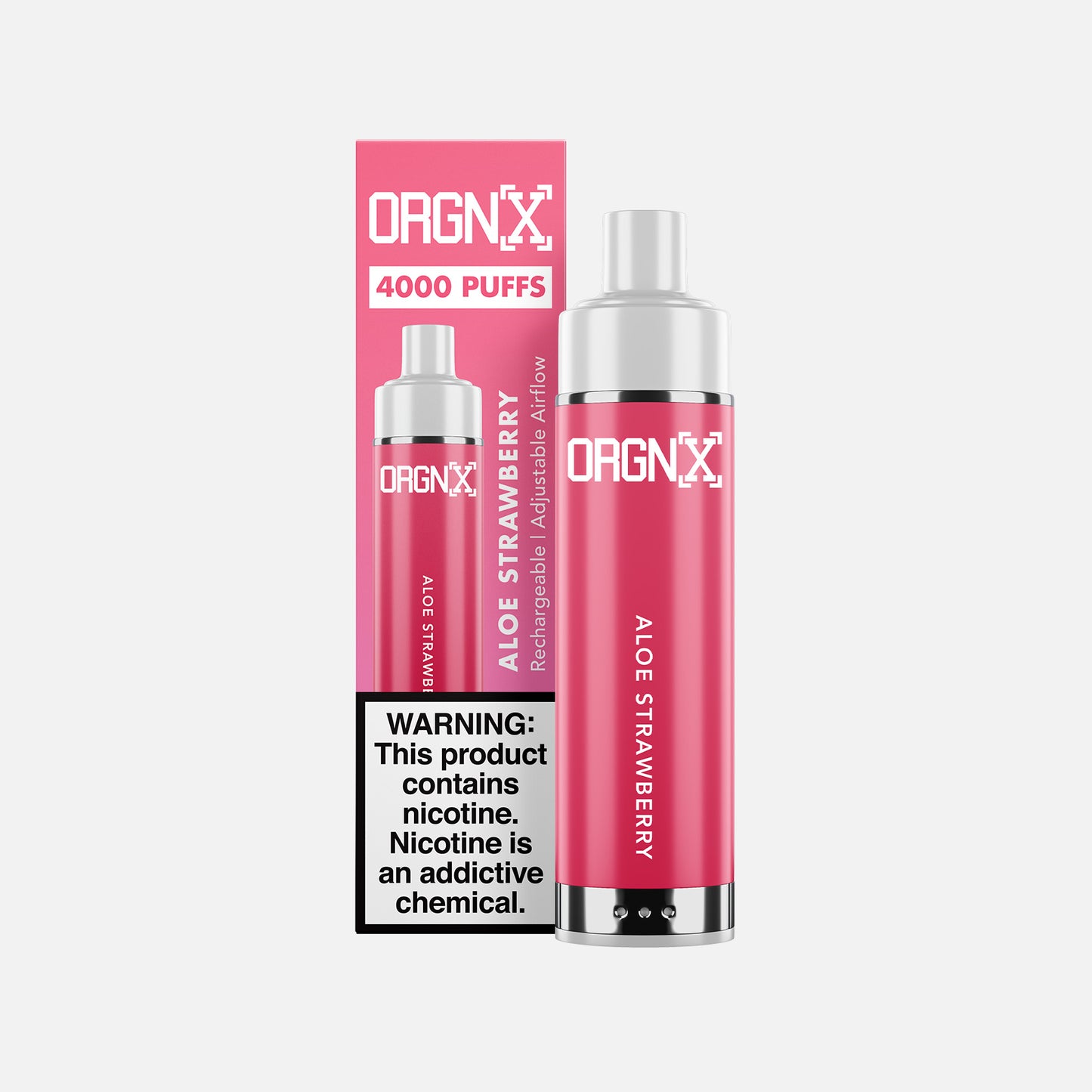 Feel The Difference
The ORGNX disposable is a lightweight device that has a short round wide mouthpiece tip for a cloud-chasing experience and DTL (direct to lung) vape. Powered by a rechargeable 650mAh built-in battery, never miss out on a drop of your favorite e-liquid.
Smooth AirFlow
Equipped with an adjustable airflow system, you can increase or decrease the flow of air easily to find what's right for you. Enhance your vape experience with 4000 puffs with smooth airflow throughout the device.